Here are some Indoor Window Planter Ideas that will help you to enjoy a lush garden in the limited space of Apartments and Condos!
Are you a houseplant hoarder with an extensive collection of gorgeous specimens? Seek inspiration from these Indoor Window Planter Ideas to add extraordinary charm to your home!
---
1. Pipe Shelving for Plants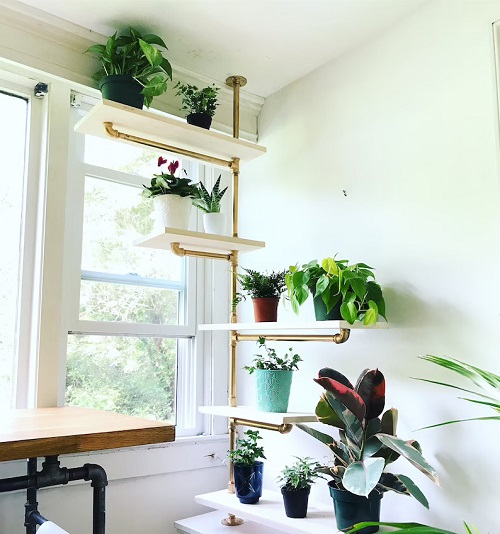 This Pipe Shelving Planter is perfect to be placed in nooks and corners. This indoor window planter idea is perfect for flaunting your creativity, especially in a limited space. Here is a step-by-step guide on how to build it.
2. Windowsill Herb Garden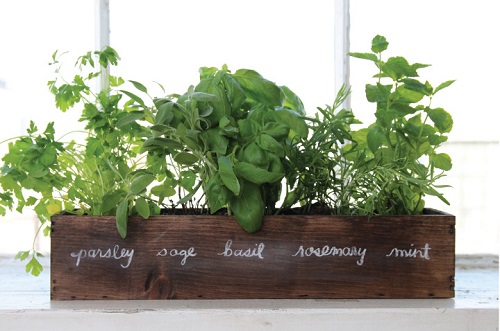 Use a wooden box to make a container for multiple herbs that can be kept at the window. This will not only add greenery but will provide quick access to homegrown herbs like basil, parsley, rosemary, etc. Get the tutorial here.
3. Mason Jar Planter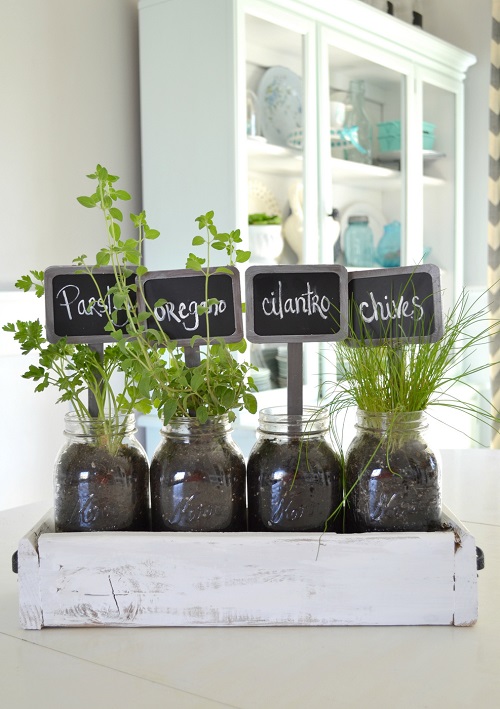 A mason jar can serve as a brilliant indoor window planter box to grow various plants and herbs. This idea gives the liberty to place the jars at any spot, including windows. Click here to know more.
4. Windowsill Herb Garden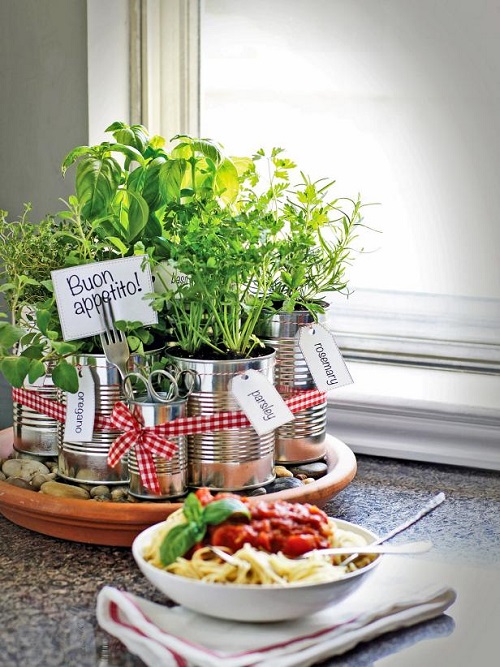 Herb gardens are as much visually appealing as they are useful, even more, when you can have them right by your kitchen windowsill. DIY using some food cans and a saucer. Click here to get the tutorial.
5. PVC Pipe Flower Box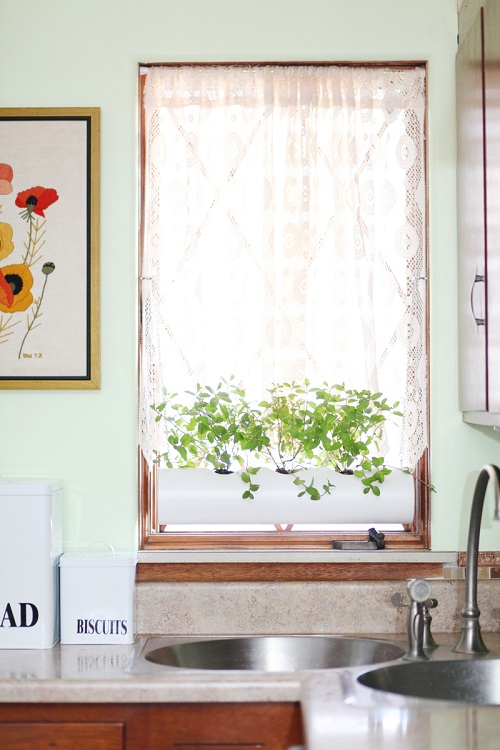 Old PVC pipes are readily available at home, or one can buy them by spending a few bucks. It is a creative indoor window planter idea where PVC pipes can be used to plant herbs and flowers and placed next to a window. Click this out for more details.
6. Pallet Window Box Planter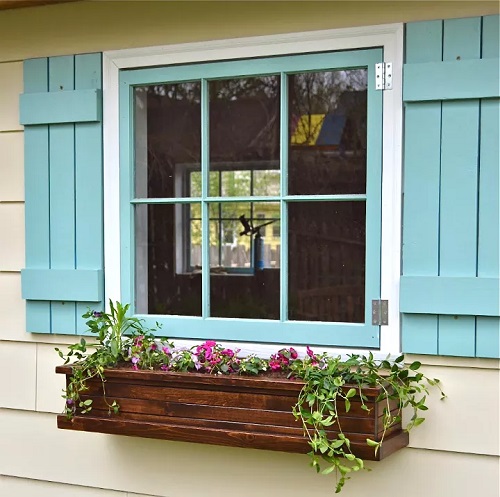 Window Box Planters are aesthetically appealing and an interesting way to ramp up regular-looking windows. They are perfect for trailing vines as well. Click here for more information on how to build it.
7. Windowsill Succulent Garden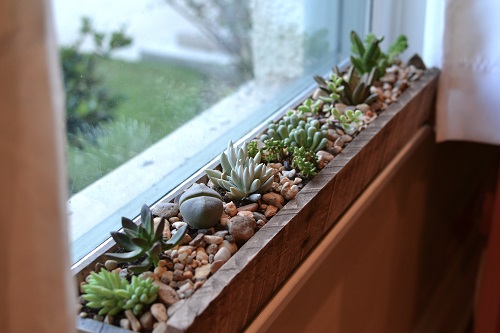 An adorable flower box can be made from shipping pallets and fixed at the bottom of a window. This flower box is a great fit as an indoor succulent garden with beautiful succulents of your choice. Click here for more details.
8. Hanging Window Herb Garden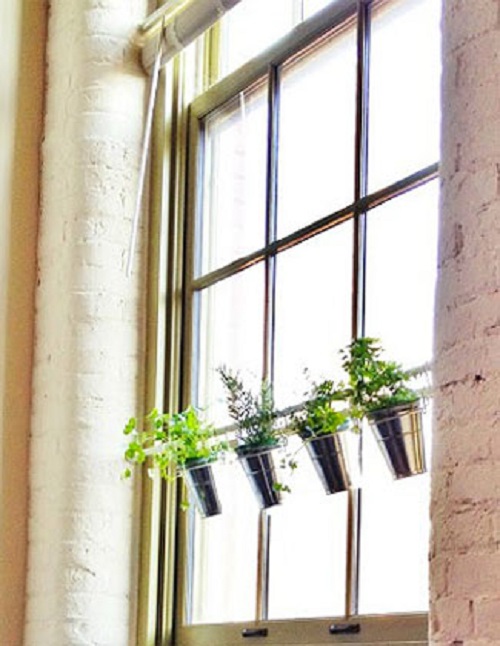 A hanging window garden is an amazing indoor window planter idea that can be executed in any room or at a kitchen window. The hanging garden can be used as an indoor plant shelf where small herbs and other flowering plants can be hung. Check here to know more.
9. Hanging Hoop Planter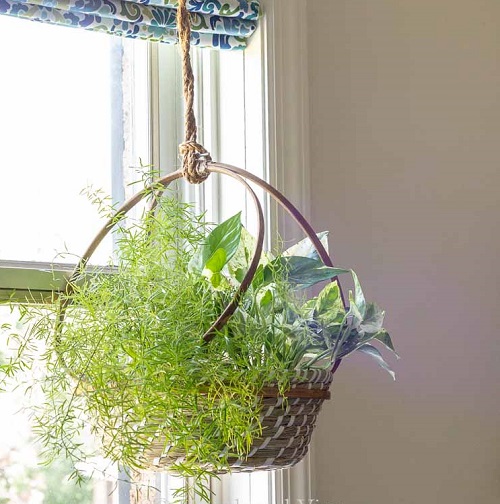 This easy indoor hanging planter DIY project uses embroidery hoops, baskets, ropes, and strings. You can hang the planter at any spot with adequate light. Check out more details here.
10. Window Pane Vegetable Garden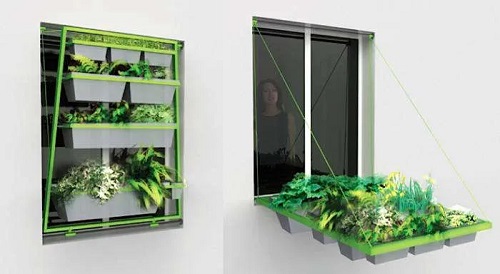 This idea works well if you have limited space for plants at home. The windowpane planter idea will help the veggies get the perfect blend of sunlight and shade throughout the day. Check out more information here.
11. Hydroponic Window Garden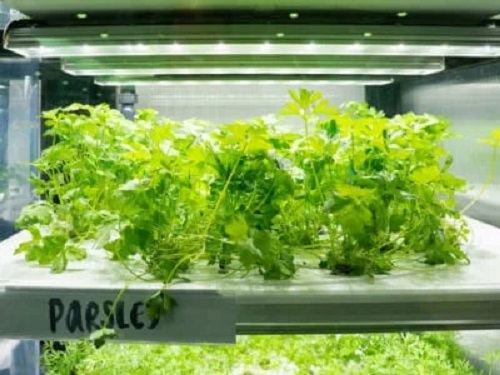 This indoor window planter idea can be used to grow herbs and cooking plants. It can provide fresh, organic vegetables or herbs while sitting at the side of the window without the fuss of soil. For more details, click here.
12. DIY Window Plant Shelves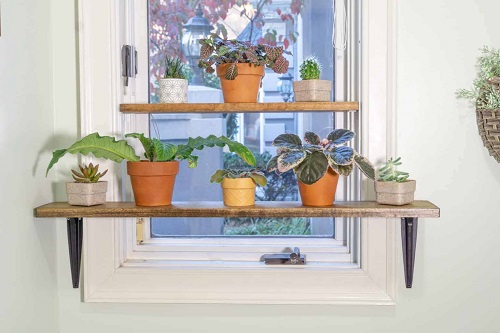 Window shelves are a unique way to make more space for your plants. Their placement near the window also helps the plants to get adequate sunlight. For more information, click here.
13. Window Boxes for Plants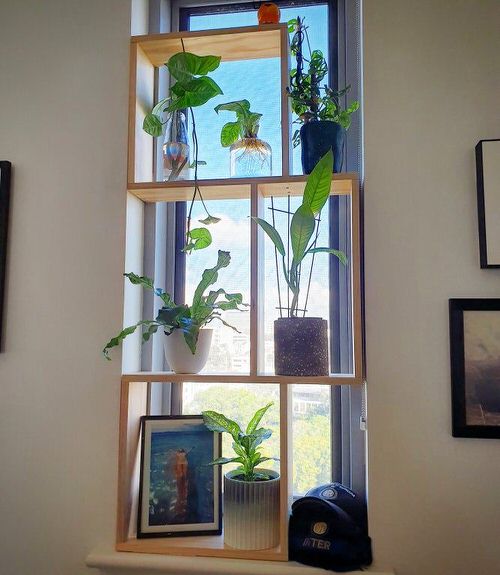 Building a box-like frame is a good way to use the space on a window while growing multiple plants together. The box frame has to be put in a way that does not completely blind the window.
14. Window Plant Shelves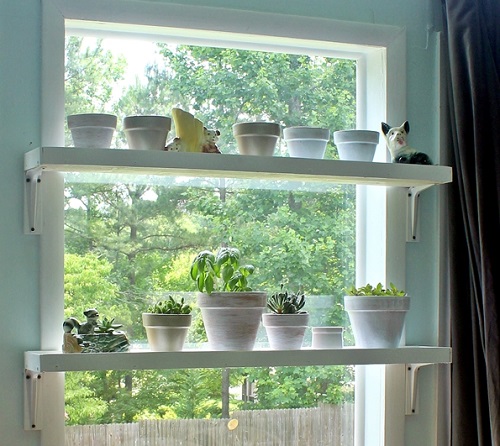 Beautiful shelves can be set up at any window to place different plant containers. You can plant flowers or herbs of your choice to execute this idea. Check this out for more information.
15. Hanging Window Shelf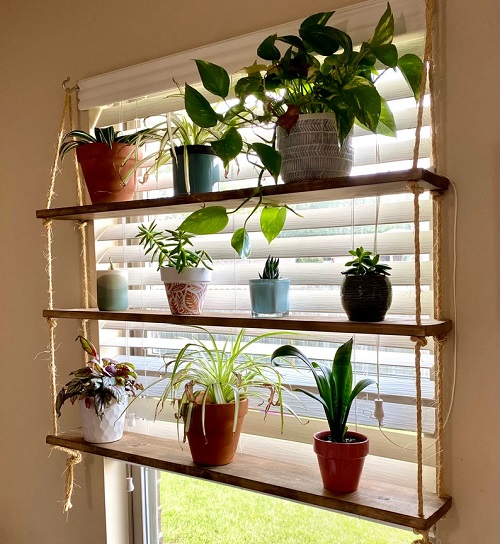 Different flowers can be grown by hanging wooden shelves near a window to make up for the plant's sunlight requirements. A few wood pallets and a rope are needed for this
16. Hanging Window Shelf for Succulents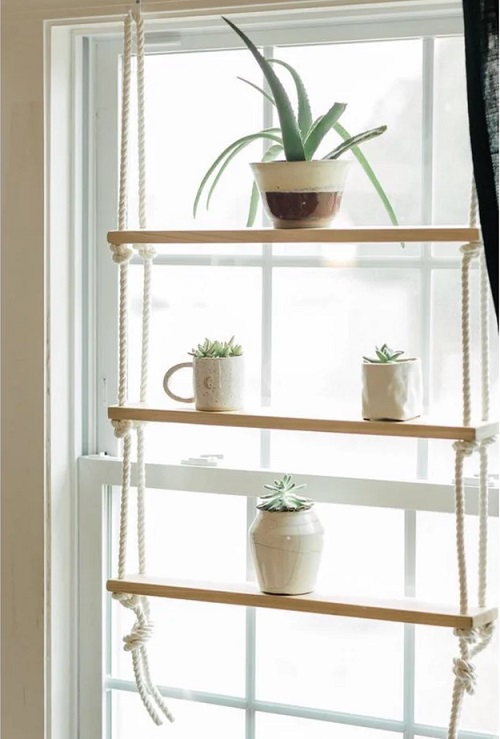 Succulents go amazing on hanging shelves. Place containers with succulents of your choice by a well-lit window, so these plants get enough light.
17. Glass Window Shelf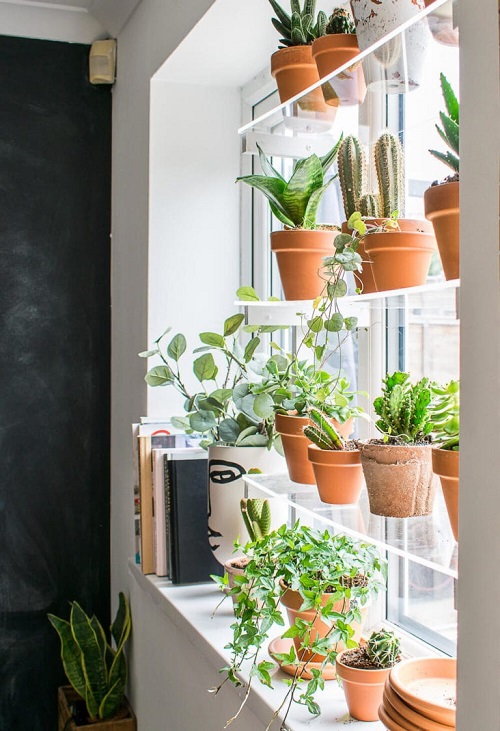 Glass shelves fixed on a window are one of the coolest window planter ideas. One can place multiple shelves to grow herbs and flowers while giving a beautiful look to the room.
18. Single Glass Shelf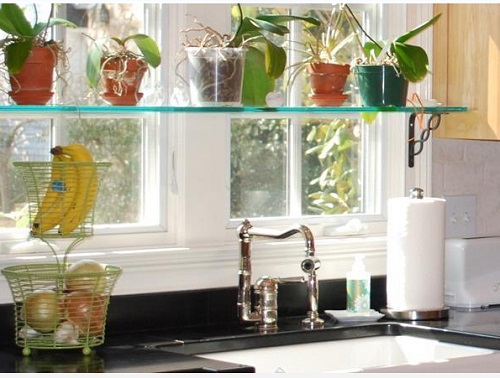 This planter idea is for indoor gardeners who don't want to blind the whole window with multiple planter shelves. Use a single glass shelf to set some ornamental plants on it.
19. Window Shelf with Colorful Pots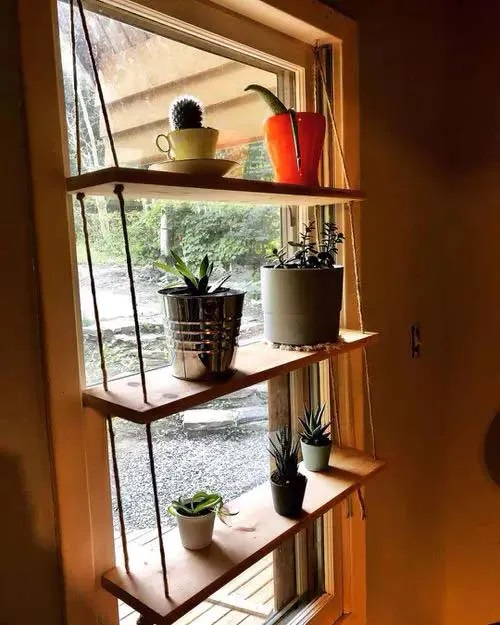 A standalone shelf or multiple shelves at the window can be used to place colorful pots. In this window planter idea, you can choose the color of a pot that complements the color of a flower or herb.
20. Decorative Iron Window Box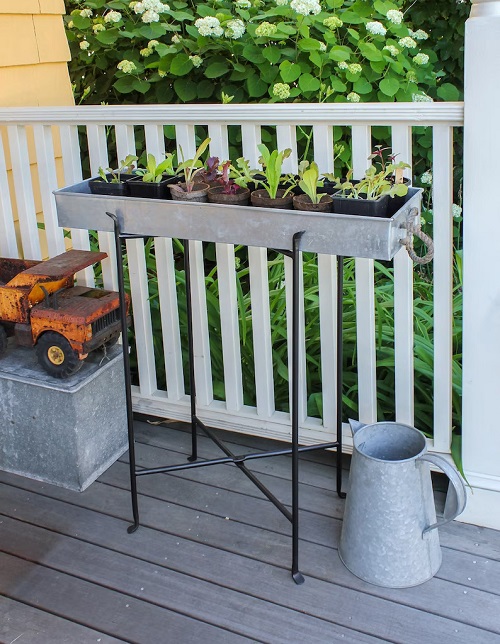 An iron box can be easily fitted at a window and filled with potted plants. This indoow window planter will look cute with a rustic touch to it.
21. Window shelves for trailing and vining plants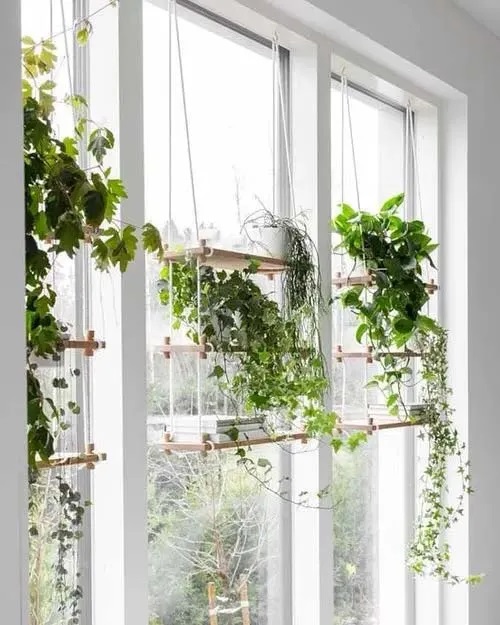 A hanging window shelf will go well with trailing and vining plants. This planter idea will give the plants enough room to spread and hang around.
22. Twigs and Branches Window Box Planter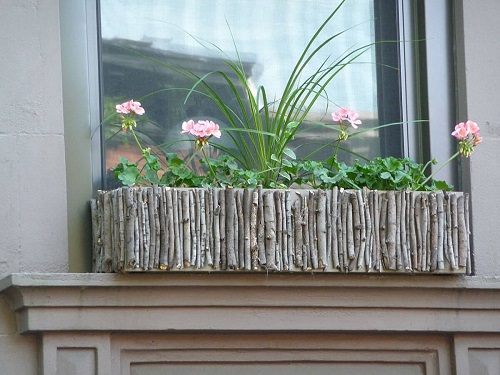 This is one of the most creative ideas, where small pieces of branches and twigs can be used to decorate a planter box. This will give a natural look to the room and will add a unique charm to it.
23. Coco Fiber Basket Planter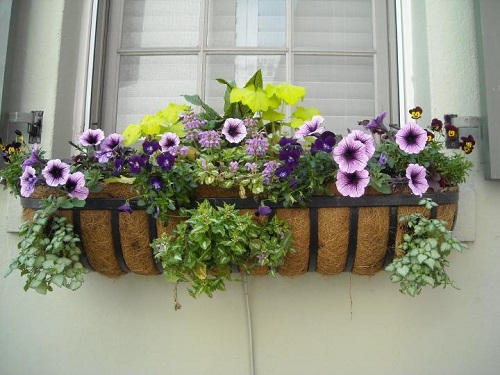 A coco fiber basket planter can be placed at a window to plant flowers. This will also add a natural look to the indoors and is easy to set up.
24. Invisible Flower Box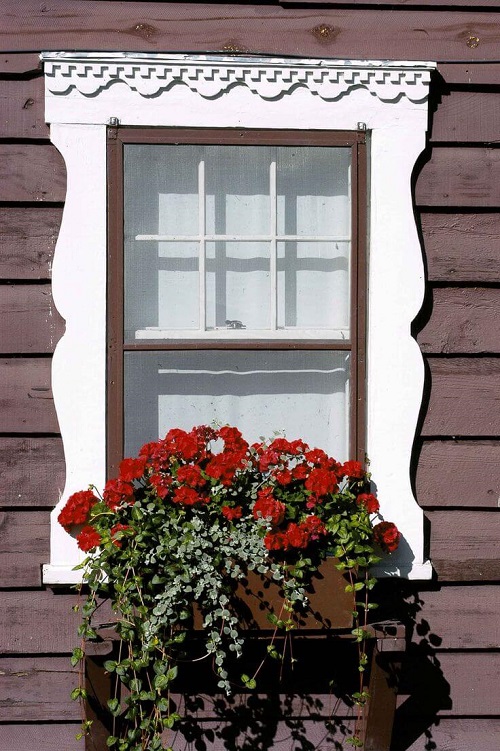 A small flower can be placed near the window. You can plant vines or trailing plants in it to make the small box almost invisible.
25. Mug Planters
Your old, used mugs can have a new role in your home. Fill the mugs with soil and use them as planters. You can keep the planters near a window so that they get the sunlight they need.
26. Floating Window Plant Shelf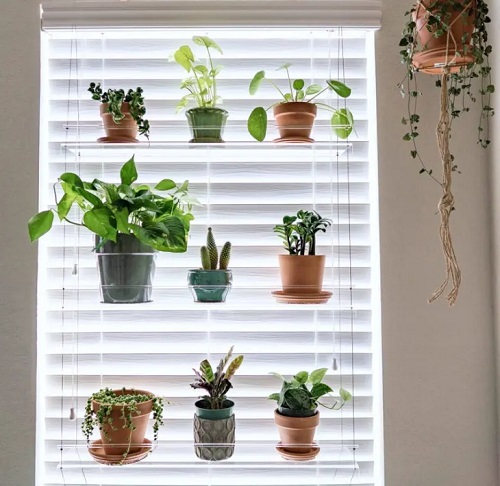 This floating plant shelf is designed to hang from a window, giving your plants the perfect place to be showcased. It is a great way to add a touch of nature to any room.
27. Macramé Wall Hanging Planter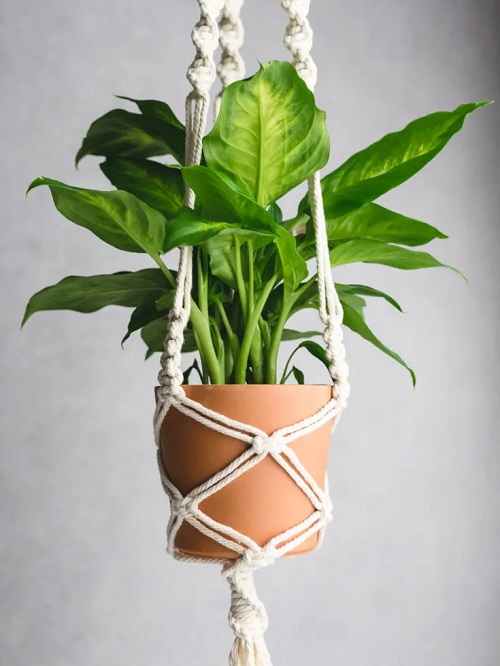 You can DIY a Macramé planter using a macramé cord, scissors, and your creativity. Here is how to do it.
28. Ladder Planter for Climbing Plants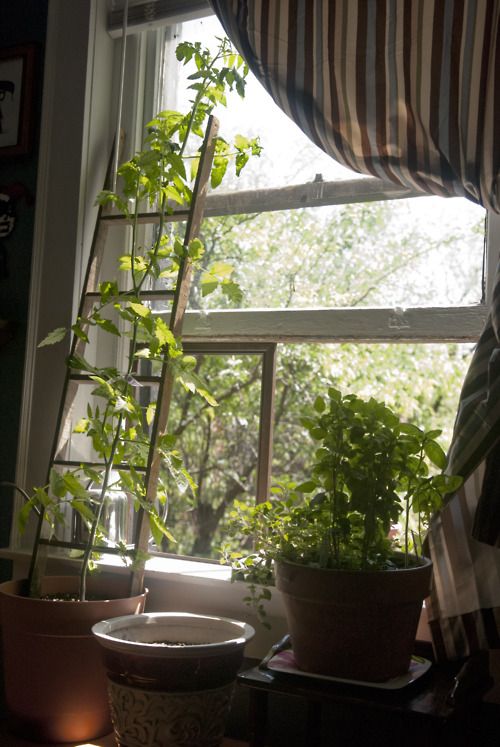 Stack a ladder against your window for your creeping plant. This ensures that the plant gets adequate light and is a quick hack for a new planter. Additionally, you can decorate the ladder as per your taste to give it a personalized look.
29. Egg Carton Planter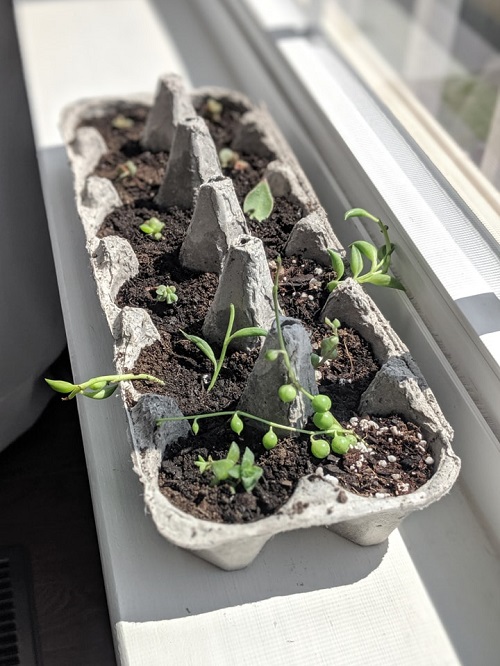 Wait before you toss out your egg cartons! You can use them as a seed starter or even a planter. Clean the carton, fill it with soil, and you are good to go.
30. Kettle Planter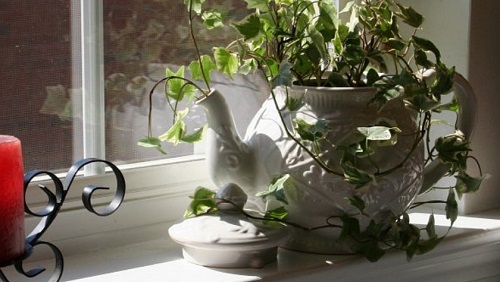 interesting way to ramp up regular-looking windows. They are perfect for trailing vines. Click here for more information on how to build it.